Mordheim : City of the Damned (PC)
Détails techniques
| | |
| --- | --- |
| Poids | 12.07 Go |
| Seed | 11 |
| Leach | 8 |
| Hash | C639BDA6BA6E0C6346364B1276C10E59006C675A |
| Date | 16 novembre 2016 01:45:02 UTC−08:00 |
Fichiers
Ou cliquez sélectivement sur l'arborescence des fichiers
Mordheim.City.of.the.Damned.Undead-RELOADED

reloaded.nfo (4.45 Kb)
rld-mociofth.r00 (190.73 Mb)
rld-mociofth.r01 (190.73 Mb)
rld-mociofth.r02 (190.73 Mb)
rld-mociofth.r03 (190.73 Mb)
rld-mociofth.r04 (190.73 Mb)
rld-mociofth.r05 (190.73 Mb)
rld-mociofth.r06 (190.73 Mb)
rld-mociofth.r07 (190.73 Mb)
rld-mociofth.r08 (190.73 Mb)
rld-mociofth.r09 (190.73 Mb)
rld-mociofth.r10 (190.73 Mb)
rld-mociofth.r11 (190.73 Mb)
rld-mociofth.r12 (190.73 Mb)
rld-mociofth.r13 (190.73 Mb)
rld-mociofth.r14 (190.73 Mb)
rld-mociofth.r15 (190.73 Mb)
rld-mociofth.r16 (190.73 Mb)
rld-mociofth.r17 (190.73 Mb)
rld-mociofth.r18 (190.73 Mb)
rld-mociofth.r19 (190.73 Mb)
rld-mociofth.r20 (190.73 Mb)
rld-mociofth.r21 (190.73 Mb)
rld-mociofth.r22 (190.73 Mb)
rld-mociofth.r23 (190.73 Mb)
rld-mociofth.r24 (190.73 Mb)
rld-mociofth.r25 (190.73 Mb)
rld-mociofth.r26 (190.73 Mb)
rld-mociofth.r27 (190.73 Mb)
rld-mociofth.r28 (190.73 Mb)
rld-mociofth.r29 (190.73 Mb)
rld-mociofth.r30 (190.73 Mb)
rld-mociofth.r31 (190.73 Mb)
rld-mociofth.r32 (190.73 Mb)
rld-mociofth.r33 (190.73 Mb)
rld-mociofth.r34 (190.73 Mb)
rld-mociofth.r35 (190.73 Mb)
rld-mociofth.r36 (190.73 Mb)
rld-mociofth.r37 (190.73 Mb)
rld-mociofth.r38 (190.73 Mb)
rld-mociofth.r39 (190.73 Mb)
rld-mociofth.r40 (190.73 Mb)
rld-mociofth.r41 (190.73 Mb)
rld-mociofth.r42 (190.73 Mb)
rld-mociofth.r43 (190.73 Mb)
rld-mociofth.r44 (190.73 Mb)
rld-mociofth.r45 (190.73 Mb)
rld-mociofth.r46 (190.73 Mb)
rld-mociofth.r47 (190.73 Mb)
rld-mociofth.r48 (190.73 Mb)
rld-mociofth.r49 (190.73 Mb)
rld-mociofth.r50 (190.73 Mb)
rld-mociofth.r51 (190.73 Mb)
rld-mociofth.r52 (190.73 Mb)
rld-mociofth.r53 (190.73 Mb)
rld-mociofth.r54 (190.73 Mb)
rld-mociofth.r55 (190.73 Mb)
rld-mociofth.r56 (190.73 Mb)
rld-mociofth.r57 (190.73 Mb)
rld-mociofth.r58 (190.73 Mb)
rld-mociofth.r59 (190.73 Mb)
rld-mociofth.r60 (190.73 Mb)
rld-mociofth.r61 (190.73 Mb)
rld-mociofth.r62 (190.73 Mb)
rld-mociofth.r63 (154.13 Mb)
rld-mociofth.rar (190.73 Mb)
rld-mociofth.sfv (1.71 Kb)
Traqueur
http://www.todotorrents.com:2710/announce
http://cpleft.com:2710/announce
udp://fr33dom.h33t.com:3310/announce
udp://tracker.istole.it:80/announce
udp://tracker.istole.it:80
udp://ipv4.tracker.harry.lu:80/announce
udp://11.rarbg.com/announce
udp://tracker.openbittorrent.com:80
udp://tracker.openbittorrent.com:80/announce
udp://11.rarbg.com:80/announce
udp://10.rarbg.com/announce
http://tracker.ex.ua/announce
http://exodus.desync.com:6969/announce
udp://9.rarbg.com:2710/announce
http://exodus.desync.com/announce
udp://tracker.publicbt.com:80/announce
udp://11.rarbg.com/announce
udp://fr33domtracker.h33t.com:3310/announce
udp://crazy-torrent.com:80/announce
http://inferno.demonoid.ph:3389/announce

Ajouter un commentaire
Commentaires
Il n'y a pas encore de commentaires. Soyez le premier.
Partagez s'il vous plait
La description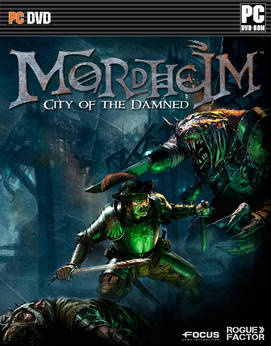 Mordheim : City of the Damned sur PC estl'adaptation du jeu de plateau de Games Workshop. Respectueux des règlesoriginales, l'adaptation permet de retrouver les bandes venuess'affronter pour piller la ville de Mordheim. Chaque action estdéterminée par les statistiques de l'unité tandis que la mort estdéfinitive dans le jeu.